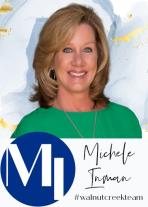 Michele Inman
Cell: (925) 818-0935
Office: (925) 933-1031
MORE INFO
Home Office(s):
Walnut Creek
500 Ygnacio Valley Rd., Suite 110
Walnut Creek, CA 94596
Cell: (925) 818-0935
Office: (925) 933-1031
Fax: (925) 934-9436
VISIT OFFICE PAGE
Michele Inman started in the title industry with Old Republic Title in May of 1995. She took off running and has not stopped since!
Michele was the recipient for Old Republic Title, Contra Costa County of the 2004, "Dare to be Different" Star Award. Michele has also received Employee of the Month in August, 1997, Rising Star of the year in 2014, Circle of Excellence in 2014, 2nd Highest Percent Increase of New Business, 2014-2015, Circle of Excellence in 2018, and 2nd Highest Percent Increase of New Business, 2018-2019.
Michele prides herself in her customer service skills. Her clients often say that Michele handles their requests in minutes. Her follow-up is excellent and regularly helps clients stay on track with their escrow transactions.
Michele offers a variety of title and escrow training classes to the agents and works with them to educate consumers about the title and escrow process.
Michele has earned the respect of her peers and agents in her market area through her professionalism, dedication, commitment, focus and drive. She is resourceful and handles situations with creative solutions and unremitting resolve. She works closely with clients and her escrow staff to complete transactions such that the agent, lender and consumer are satisfied in their experience with Old Republic Title.
Michele Inman and Old Republic Title-when you work with this winning combination you will see how....
Our Experience is Your Advantage!
What are others saying about working with Michele Inman?
Thanks for submitting a comment! Michele Inman will be notified and once it has been approved it will display here. Have a great day!
Michele is the best! She is truly a professional, but with a great personality of someone who is very easy to work with. Michele and her team are very prompt, reliable, and knowledgeable. I know I can count on them to get the job done and answer any questions along the way. Highly recommend Michele and her team.
Kristen Ferraris
Michele is amazing to work with! Beyond the warm, positive outlook she is professional, responsive and knowledgable. Michele goes above and beyond, providing great care in a sometimes stressful business.
Wendy Ramer
I have worked with Michele for years. She is amazing. Always available with knowledge and a smile. Her team makes my clients feel comfortable and answers all their questions. Escrows are not always easy but Michele and her team always handle them with their caring touch.
Kathryn Sabah
I'd like to say a few words about Michele. I have been using her services for approximately 25 years and I would like to personally thank her on her efforts which go above and beyond expectation. Just this week, she and her team helped one of my many clients straighten out what could have easily ended up as a very unpleasant situation. I'm very protective of my clients and it is very important that my service providers honor my clients and treat them with the utmost respect. Thank you Michele.
Bill Jacobus
Michele and her team at Old Republic Title and I have worked together for almost 15 years. In my opinion there is not a better team in the East Bay. We all know not all escrows are easy but when things get tough Michele has always come through for me. Michele is available 24/7. Working with professionals makes my job that much easier. I recommend Michele and her team to all of our new agents. Thanks for your years of support.
Mike Kavanaugh
Having been in the real estate industry for several years, I've worked with a number of title companies. Once I switched brokerages, my business partner highly recommended we use Michele Inman and team from ORTC. After working with them on several transactions now, I have to say they are the BEST! Michele is energized, very caring, a great listener and is always there for us. ORTC in Walnut Creek is my go-to title company and I highly recommend others use them!
Jamie Duvnjak
Michelle has provided me with so much support throughout so many years. I do not know what I would have done without having Michelle in my business career. She is positive, smart, professional, hard working, caring, supportive, trusting, amazing, motivating, appreciative. The interest that she continues to show in my success and development is something for which I am so very grateful. I can't thank her enough for her teamwork and support, but for her vote of confidence. A friend forever!
Lori Hagge
Michelle is simply the epitome of professionalism and is always approaching her work with a smile on her face! She is so helpful and works so hard to be a resource for us agents and really works to add value to our businesses. I highly recommend her and her team to any agent who wants top notch service with an amazing and uplifting attitude! She is the BEST!
Oliver Brown
Michele is wonderful to work with. She always responds to calls promptly and provides excellent farms. She is a delight both in person and on the phone. You can see her smile when you speak with her on the phone. I wish more title reps were like her!
Dacia Welch
Michele is incredible! The best! I am so happy to be working with her. She is a dream to work with- supportive, efficient, honest, and hard working. I don't know what we would do without her. She is trusted, tried and true, and such fun to be around :) She truly has it all and brings these amazing values to work for her clients. I highly recommend Michele!
Sierra Murch
I've worked with Michele for many years. She is a true professional. She not only knows the title business, she strives to learn the ever changing environment of real estate. She is always willing and available to work with me and is an outstanding representative of ORTC. Not only does Michele have superior customer service skills, she is very caring, trustworthy and honest. Put it all together and Michele is truly a super person!
Jeanette Shelton
I am new to the real estate field. I met Michele at a networking event and she was very enthused about my potential as a new agent. She proactively set up a meeting with me, and shared with me the products from Old Republic that are available to me. She has been professional, supportive and insightful. When I have a problem with listing, I reach out to Michele and she walks me through it. Always patient and friendly. I know with Michele on my side I will be a better agent for me and my clients.
Tim Farley
I have worked with Michele for over 15 years, and she has always been attentive and ready to help. Her loyalty and experience can't be overstated - she's simply the best! After working with Michele for years, she's become a good friend and I truly value her and the help she provides! Michele is a very authentic and amazing person - I would very highly recommend her for your title and escrow needs!!! She is truly amazing!
Anders (Andy) Scott
Over the years I have found Michele Inman to be incredibly conscientious, helpful and professional. Her business advice along with the tools available to assist me in my career is not just invaluable, but also a necessary component to my business. I highly recommend Michele Inman. Hands down the best in her field!
Christina Beil
Michele Inman is the best title rep in the business! She is a trusted, well repected and very appreciated professional in our field. Michele never drops the ball, is always there when you need her and her affliation with Old Republic Title makes her second to none. I value and rely on her to always offer the most up to date information and first class service. I've been a Realtor for 33 years and can't imagine doing business without her! Michele is a keeper for life!
Mary Noel
Michele has been working with us (our team) since I came into the business four years ago. She is the most amazing, helpful, professional and talented representative I've had the pleasure to work with. Her availability is second to none! We love our Old Republic Title team and plan on a long and enjoyable relationship for years to come!
Nick Allen
From the moment I met Michele in 2016, I knew I had ally! A consommate professional with a great work ethic and a sincere, truly altruistic person. I look forward to many years of working together!!
Rhonda Temple
MIchele has the "service gene". That is what is so important in the real estate business. She cares about getting agent's needs met and will jump through hoops to get it done! She is so appreciated by myself and our agents. She never pushes too hard but is always there to lend her expertise, and because she has been in the business for many years, she has plenty of that!
Tracey Casella
What an amazing person to work with! Michele deeply cares about people and it shows in every interaction. She always delivers superior, professional service and is willing to go out of her way to make sure that you have what you need. Michele is reliable, dependable and easy to get a hold of. If you haven't yet, you should give her a call!
Amy Hatlen
I have had the pleasure to work with Michele as both a coworker and a client. Her customer service is second to none! I just closed my refi and Michele notified me before my lender did, that's customer service at its finest!!
Diana brucha
I have worked with Michele for 4 years and know I can alway depend on her. Whether it's a complicated property search or an urgent request for farming tools, she is always happy to help, the consummate professional and will make time for me as though I were her only client. She frequently stops by my office just to check in and to see if I, or any of my few Realtors, need anything. Her kind and engaging style is just icing on the cake.
Kathy Sorensen
Michele is awesome and always willing to help. She's a great support and resource to my business! She gets things done! Best title rep out there.
Veronica Hidalgo
Since Day 1, Michele has been most excellent! She is very responsive, incredibly helpful, and supportive in so many ways. I have built a strong business by partnering with Michele and her excellent escrow officers, and they consistently exceed my client's expectations. I'd recommend her in a heartbeat!
Jessica Pavoni
"Effective," "Relational," "Professional"... that is how I would describe my working relationship with Michele Inman. Michele has been my representative for over 18 years. Her dedication and support to my business has been unsurpassed. She is my "go to" for all things escrow and title. Michele Inman is invaluable! I am proud to have her as my rep.
Carolynn Thelemaque
Michele is the consummate professional, client advocate and when things come up, she will jump in and find resources to help with whatever your current challenge. Her escrow officers love her because she has their back. And her Realtors love her because she knows how to really be of service. She understands our challenges and stresses and juggles both sides of the table with quiet confidence, always with a smile. If Michele says it, we know we can count on her follow through. She's a 10++
Terrylynn Fisher
Michele is hands down the best title rep I have ever worked with! I was an escrow officer for many years, so the expectations for my clients tend to be a bit different than most. Michele has understood what we need, goes above and beyond to deliver, and sincerely cares about every transaction that goes to her office. If I have a unique question I don't hesitate to call her, I know she will find the answer, all with a smile on her face!
Diane Ramirez
Michele is absolutely incredible! She's always there for me if I have a question, prompt to provide materials, and one of the most positive people I know.
Cynthia Peterson
Michele Inman, in my professional opinion, is the best Sales Rep in the Title business. I've known her for nearly 20 years and have had a working relationship with her since 2002. Not only is she a caring human being but her professionalism, attitude, humility, and her unwavering willingness to help her agents (customer service) sets her apart from the others. She and her team won't disappoint you!
Anastasia Stephanopoulos
Michele has been with me since I first started in the business 8 years ago. She is always offering to help and saying yes to whatever I need regarding escrow. Even in the beginning, when I wasn't making a lot of money, she was always there....she is reliable and I know I can count on her...she shows up and she always picks up the phone! She is absolutely a STAR!!
Teresa Zocchi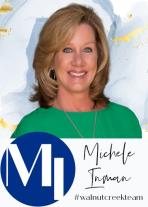 Michele Inman
Cell: (925) 818-0935
Office: (925) 933-1031
MORE INFO
Home Office(s):
Walnut Creek
500 Ygnacio Valley Rd., Suite 110
Walnut Creek, CA 94596
Cell: (925) 818-0935
Office: (925) 933-1031
Fax: (925) 934-9436
VISIT OFFICE PAGE
About Me

Michele Inman started in the title industry with Old Republic Title in May of 1995. She took off running and has not stopped since!

Michele was the recipient for Old Republic Title, Contra Costa County of the 2004, "Dare to be Different" Star Award. Michele has also received Employee of the Month in August, 1997, Rising Star of the year in 2014, Circle of Excellence in 2014, 2nd Highest Percent Increase of New Business, 2014-2015, Circle of Excellence in 2018, and 2nd Highest Percent Increase of New Business, 2018-2019.

Michele prides herself in her customer service skills. Her clients often say that Michele handles their requests in minutes. Her follow-up is excellent and regularly helps clients stay on track with their escrow transactions.

Michele offers a variety of title and escrow training classes to the agents and works with them to educate consumers about the title and escrow process.

Michele has earned the respect of her peers and agents in her market area through her professionalism, dedication, commitment, focus and drive. She is resourceful and handles situations with creative solutions and unremitting resolve. She works closely with clients and her escrow staff to complete transactions such that the agent, lender and consumer are satisfied in their experience with Old Republic Title.

Michele Inman and Old Republic Title-when you work with this winning combination you will see how....

Our Experience is Your Advantage!

Testimonials

What are others saying about working with Michele Inman?

Thanks for submitting a comment! Michele Inman will be notified and once it has been approved it will display here. Have a great day!

Michele is the best! She is truly a professional, but with a great personality of someone who is very easy to work with. Michele and her team are very prompt, reliable, and knowledgeable. I know I can count on them to get the job done and answer any questions along the way. Highly recommend Michele and her team.

Kristen Ferraris

Michele is amazing to work with! Beyond the warm, positive outlook she is professional, responsive and knowledgable. Michele goes above and beyond, providing great care in a sometimes stressful business.

Wendy Ramer

I have worked with Michele for years. She is amazing. Always available with knowledge and a smile. Her team makes my clients feel comfortable and answers all their questions. Escrows are not always easy but Michele and her team always handle them with their caring touch.

Kathryn Sabah

I'd like to say a few words about Michele. I have been using her services for approximately 25 years and I would like to personally thank her on her efforts which go above and beyond expectation. Just this week, she and her team helped one of my many clients straighten out what could have easily ended up as a very unpleasant situation. I'm very protective of my clients and it is very important that my service providers honor my clients and treat them with the utmost respect. Thank you Michele.

Bill Jacobus

Michele and her team at Old Republic Title and I have worked together for almost 15 years. In my opinion there is not a better team in the East Bay. We all know not all escrows are easy but when things get tough Michele has always come through for me. Michele is available 24/7. Working with professionals makes my job that much easier. I recommend Michele and her team to all of our new agents. Thanks for your years of support.

Mike Kavanaugh

Having been in the real estate industry for several years, I've worked with a number of title companies. Once I switched brokerages, my business partner highly recommended we use Michele Inman and team from ORTC. After working with them on several transactions now, I have to say they are the BEST! Michele is energized, very caring, a great listener and is always there for us. ORTC in Walnut Creek is my go-to title company and I highly recommend others use them!

Jamie Duvnjak

Michelle has provided me with so much support throughout so many years. I do not know what I would have done without having Michelle in my business career. She is positive, smart, professional, hard working, caring, supportive, trusting, amazing, motivating, appreciative. The interest that she continues to show in my success and development is something for which I am so very grateful. I can't thank her enough for her teamwork and support, but for her vote of confidence. A friend forever!

Lori Hagge

Michelle is simply the epitome of professionalism and is always approaching her work with a smile on her face! She is so helpful and works so hard to be a resource for us agents and really works to add value to our businesses. I highly recommend her and her team to any agent who wants top notch service with an amazing and uplifting attitude! She is the BEST!

Oliver Brown

Michele is wonderful to work with. She always responds to calls promptly and provides excellent farms. She is a delight both in person and on the phone. You can see her smile when you speak with her on the phone. I wish more title reps were like her!

Dacia Welch

Michele is incredible! The best! I am so happy to be working with her. She is a dream to work with- supportive, efficient, honest, and hard working. I don't know what we would do without her. She is trusted, tried and true, and such fun to be around :) She truly has it all and brings these amazing values to work for her clients. I highly recommend Michele!

Sierra Murch

I've worked with Michele for many years. She is a true professional. She not only knows the title business, she strives to learn the ever changing environment of real estate. She is always willing and available to work with me and is an outstanding representative of ORTC. Not only does Michele have superior customer service skills, she is very caring, trustworthy and honest. Put it all together and Michele is truly a super person!

Jeanette Shelton

I am new to the real estate field. I met Michele at a networking event and she was very enthused about my potential as a new agent. She proactively set up a meeting with me, and shared with me the products from Old Republic that are available to me. She has been professional, supportive and insightful. When I have a problem with listing, I reach out to Michele and she walks me through it. Always patient and friendly. I know with Michele on my side I will be a better agent for me and my clients.

Tim Farley

I have worked with Michele for over 15 years, and she has always been attentive and ready to help. Her loyalty and experience can't be overstated - she's simply the best! After working with Michele for years, she's become a good friend and I truly value her and the help she provides! Michele is a very authentic and amazing person - I would very highly recommend her for your title and escrow needs!!! She is truly amazing!

Anders (Andy) Scott

Over the years I have found Michele Inman to be incredibly conscientious, helpful and professional. Her business advice along with the tools available to assist me in my career is not just invaluable, but also a necessary component to my business. I highly recommend Michele Inman. Hands down the best in her field!

Christina Beil

Michele Inman is the best title rep in the business! She is a trusted, well repected and very appreciated professional in our field. Michele never drops the ball, is always there when you need her and her affliation with Old Republic Title makes her second to none. I value and rely on her to always offer the most up to date information and first class service. I've been a Realtor for 33 years and can't imagine doing business without her! Michele is a keeper for life!

Mary Noel

Michele has been working with us (our team) since I came into the business four years ago. She is the most amazing, helpful, professional and talented representative I've had the pleasure to work with. Her availability is second to none! We love our Old Republic Title team and plan on a long and enjoyable relationship for years to come!

Nick Allen

From the moment I met Michele in 2016, I knew I had ally! A consommate professional with a great work ethic and a sincere, truly altruistic person. I look forward to many years of working together!!

Rhonda Temple

MIchele has the "service gene". That is what is so important in the real estate business. She cares about getting agent's needs met and will jump through hoops to get it done! She is so appreciated by myself and our agents. She never pushes too hard but is always there to lend her expertise, and because she has been in the business for many years, she has plenty of that!

Tracey Casella

What an amazing person to work with! Michele deeply cares about people and it shows in every interaction. She always delivers superior, professional service and is willing to go out of her way to make sure that you have what you need. Michele is reliable, dependable and easy to get a hold of. If you haven't yet, you should give her a call!

Amy Hatlen

I have had the pleasure to work with Michele as both a coworker and a client. Her customer service is second to none! I just closed my refi and Michele notified me before my lender did, that's customer service at its finest!!

Diana brucha

I have worked with Michele for 4 years and know I can alway depend on her. Whether it's a complicated property search or an urgent request for farming tools, she is always happy to help, the consummate professional and will make time for me as though I were her only client. She frequently stops by my office just to check in and to see if I, or any of my few Realtors, need anything. Her kind and engaging style is just icing on the cake.

Kathy Sorensen

Michele is awesome and always willing to help. She's a great support and resource to my business! She gets things done! Best title rep out there.

Veronica Hidalgo

Since Day 1, Michele has been most excellent! She is very responsive, incredibly helpful, and supportive in so many ways. I have built a strong business by partnering with Michele and her excellent escrow officers, and they consistently exceed my client's expectations. I'd recommend her in a heartbeat!

Jessica Pavoni

"Effective," "Relational," "Professional"... that is how I would describe my working relationship with Michele Inman. Michele has been my representative for over 18 years. Her dedication and support to my business has been unsurpassed. She is my "go to" for all things escrow and title. Michele Inman is invaluable! I am proud to have her as my rep.

Carolynn Thelemaque

Michele is the consummate professional, client advocate and when things come up, she will jump in and find resources to help with whatever your current challenge. Her escrow officers love her because she has their back. And her Realtors love her because she knows how to really be of service. She understands our challenges and stresses and juggles both sides of the table with quiet confidence, always with a smile. If Michele says it, we know we can count on her follow through. She's a 10++

Terrylynn Fisher

Michele is hands down the best title rep I have ever worked with! I was an escrow officer for many years, so the expectations for my clients tend to be a bit different than most. Michele has understood what we need, goes above and beyond to deliver, and sincerely cares about every transaction that goes to her office. If I have a unique question I don't hesitate to call her, I know she will find the answer, all with a smile on her face!

Diane Ramirez

Michele is absolutely incredible! She's always there for me if I have a question, prompt to provide materials, and one of the most positive people I know.

Cynthia Peterson

Michele Inman, in my professional opinion, is the best Sales Rep in the Title business. I've known her for nearly 20 years and have had a working relationship with her since 2002. Not only is she a caring human being but her professionalism, attitude, humility, and her unwavering willingness to help her agents (customer service) sets her apart from the others. She and her team won't disappoint you!

Anastasia Stephanopoulos

Michele has been with me since I first started in the business 8 years ago. She is always offering to help and saying yes to whatever I need regarding escrow. Even in the beginning, when I wasn't making a lot of money, she was always there....she is reliable and I know I can count on her...she shows up and she always picks up the phone! She is absolutely a STAR!!

Teresa Zocchi