National Commercial Services
National

Experience
Local

Expertise
Our Services
National Commercial Services (NCS) proudly serves the commercial real estate community through our highly experienced professionals and a suite of products and services tailored for our customers' transactions. Backed by unsurpassed financial strength ratings in the title insurance industry, we promptly deliver the solutions-driven underwriting, specialized title, settlement and other services needed to successfully close your transactions nationwide.
National Expertise

National Expertise




Our respected NCS industry professionals are located from coast-to-coast delivering accurate, efficient and timely transactions through customized commercial services and solutions-oriented underwriting.  Our proactive teams are comprised of highly experienced attorneys, underwriters, closers and other national commercial title specialists who understand the importance and intricacies of each transaction.  Whether your project is simple or complex, our skilled staff has the requisite knowledge and expertise to respond to your specific needs. 

You'll also benefit from having a single point of contact, providing you with streamlined delivery of title insurance and related services nationwide, including:

Commercial Title Insurance
Escrow and Settlement Services
National Underwriting Authority
Energy Title Services
Uniform Commercial Code (UCC) Coverage
§1031 Exchanges and more

To learn more, please CONTACT US

Energy Division

Energy Division


Old Republic Title's Energy Division has the expertise to successfully execute land title, title insurance and closing services for your energy transactions including wind farms, solar farms, power plants, multi-site portfolios and many other types of energy projects.

Customers work with a dedicated team of professionals equipped with practical experience in project development and complex underwriting, and they understand the dynamic energy arena and the rigorous and rapidly changing characteristics of industry transactions. 

Regardless of the size or complexity of your project, you can consistently depend on the Old Republic Team to address the unique requirements of your projects with accuracy, responsiveness and innovative solutions.  Backed by unsurpassed financial strength ratings, our knowledgeable team is ready to help you get started on your next transaction.

For additional information, please contact:

Lauren M. Gray  |  lgray@oldrepublictitle.com  |  346.227.1746
Senior Vice President of Old Republic National Title Insurance Company
Manager and Commercial Counsel, National Energy Title Services Division

UCC Policy

UCC Policy

 

The team of highly experienced UCC Insurance professionals at Old Republic Title understand the intricacies of UCC insurance products and stand ready to provide the exceptional level of service and communication required for a successful transaction.

Backed by unsurpassed financial strength ratings since 1992, Old Republic Title's UCC Policy insures the attachment, perfection and priority of a Lender's security instrument on a Debtor's non-real estate assets, by insuring the Lender that: (a) the Debtor either has ownership rights in the collateral, or (b) the Debtor has a sufficient interest in the collateral that can be transferred to the insured Lender as collateral for the Loan.  Additionally, Lenders can lower transaction costs and accelerate closings by outsourcing the time-consuming, labor intensive UCC related searches and filing tasks to the dedicated UCC underwriting staff at Old Republic Title.

UCC Insurance is well-suited for:

Asset-Based Loans, including Multiple Advance/Revolving Credit Facilities;
Asset Securitizations;
Mezzanine Loans; and
Syndications.

For additional information, please contact:

Michael Muldoon  |  mmuldoon@oldrepublictitle.com  |  619.446.5693
AVP, Senior Commercial Title Officer | Old Republic National Title Insurance Company
Serving Your Commercial Real Estate Transaction Needs
* Responsive Service * Expert Underwriting 
* Unsurpassed Financial Strength Ratings 
Regardless of the size, complexity or geographic diversity of property in your transactions, NCS has the expertise and national footprint to meet your business needs. Your highly experienced and responsive NCS team provides the products and services required to ensure the success of your commercial real estate transactions.
Unsurpassed Financial Strength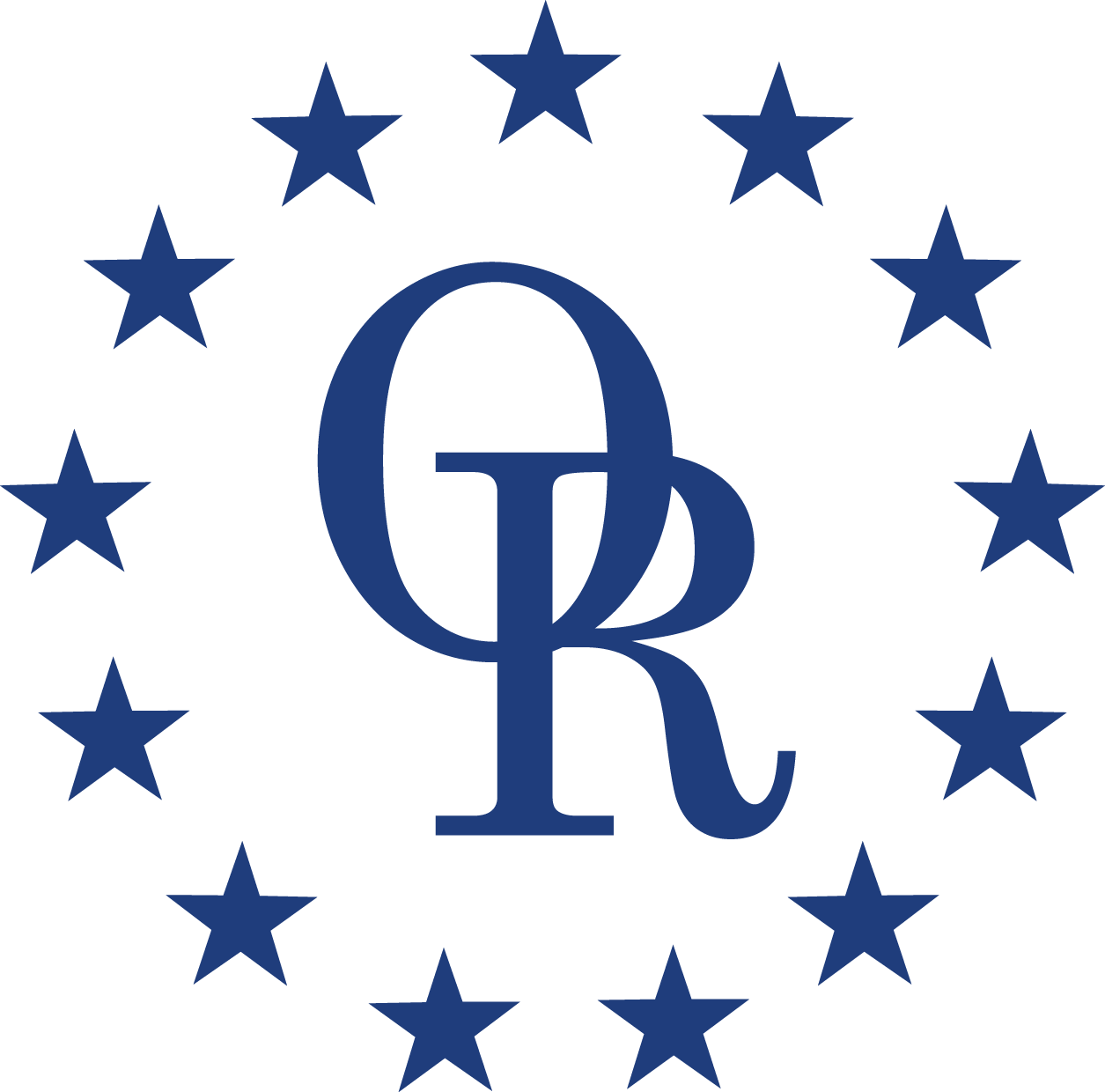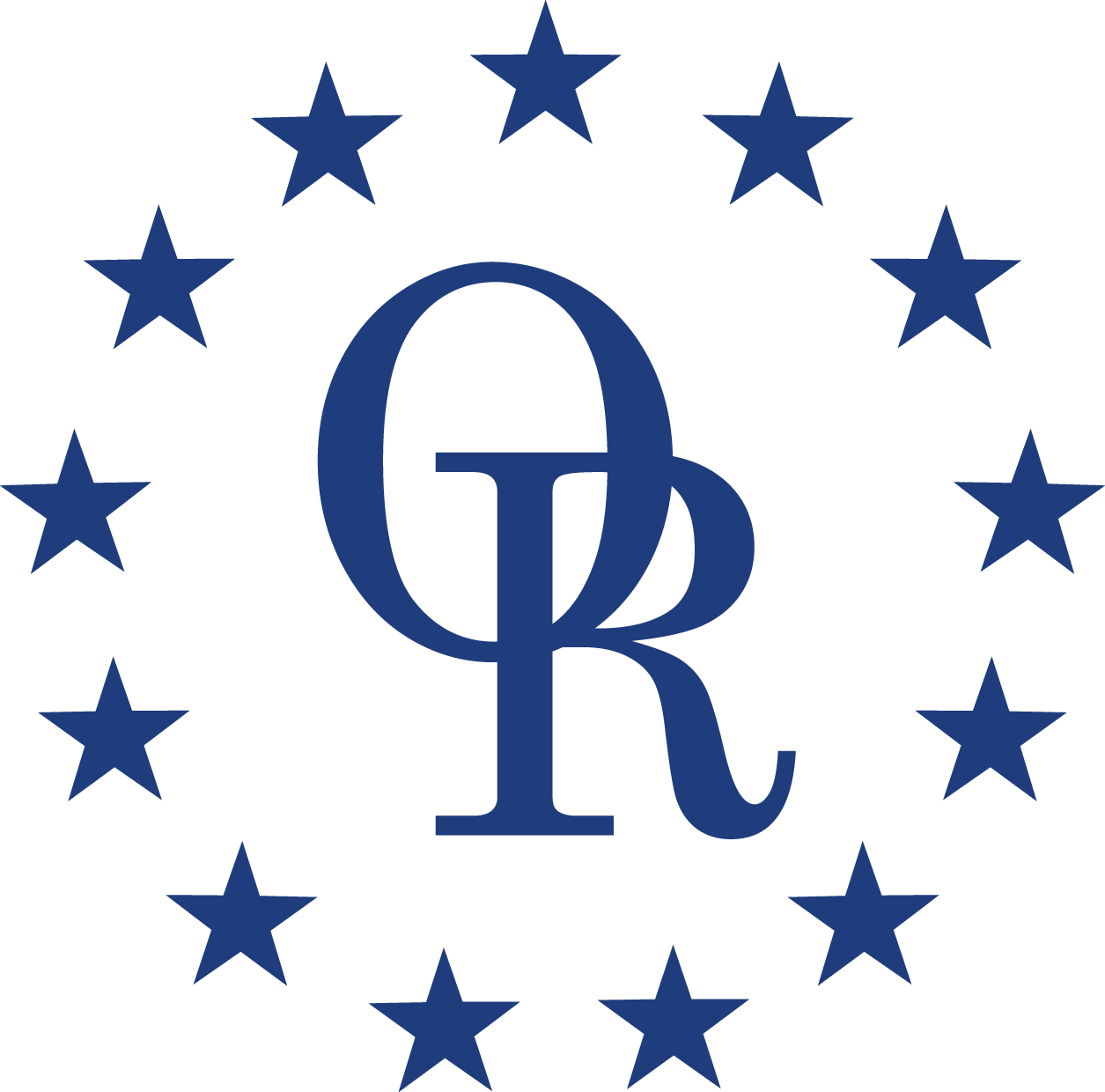 Old Republic Title's commercial title insurance is backed by unsurpassed financial strength in the title insurance industry. Since 1992, no other title insurer has had higher overall ratings than Old Republic Title. Through a conservative financial management philosophy, we focus on long-term financial stability so we can continue to honor our commitment to policyholders.
Annual Review           Financial Ratings            Investor and Other Information


Recent Transactions


NCS projects include some of the largest and most complex commercial transactions in the United States including office and industrial buildings, renewable energy projects, luxury resorts, sports stadiums, mixed-use developments and many others. View some examples of our recent NCS transactions in the scrolling image here, and see additional Noteworthy Commercial Projects from all of Old Republic Title in the link below.
More Noteworthy Commercial Projects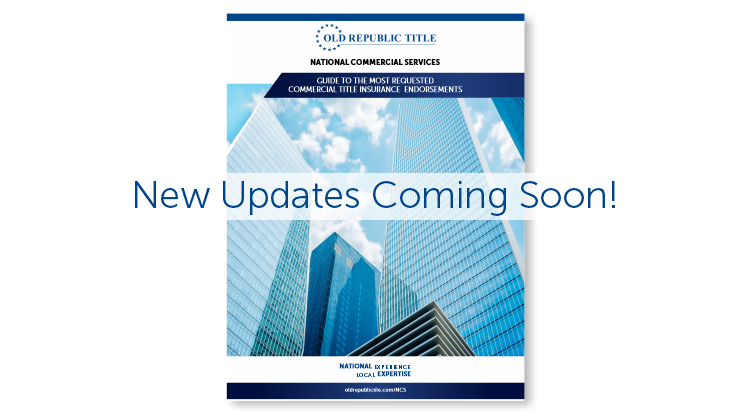 Most Requested Commercial Endorsements
Find the information you need on the ALTA endorsements that are most commonly used in commercial transactions in feature-rich eBook and mobile versions. 
Coming Soon!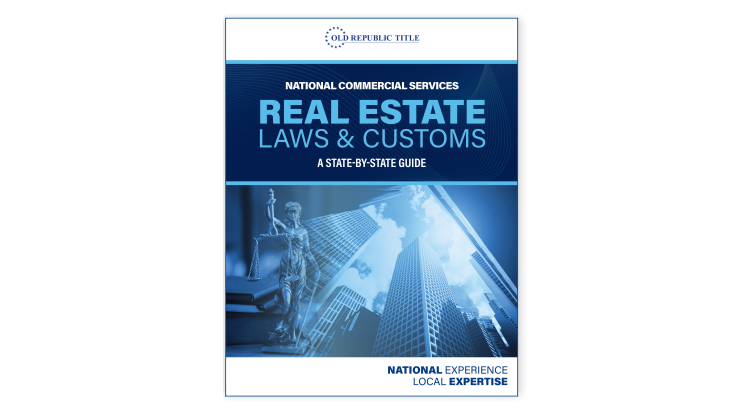 Real Estate Laws and Customs Guide
Comprehensive resource for nationwide real estate laws and customs by state. Available in dynamic eBook and mobile formats with user-friendly search and navigation features.
Access Now
Old Republic Sustainability Report
At our Company, adaptability and innovation are built on a foundation of responsible stewardship. When Old Republic issues a policy, we are making a promise to our customers. In this inaugural Sustainability Report, we provide a view inside our organization beyond traditional financial disclosure. Download here or click below to view the Sustainability Report.
View Report
Endorsements & Overview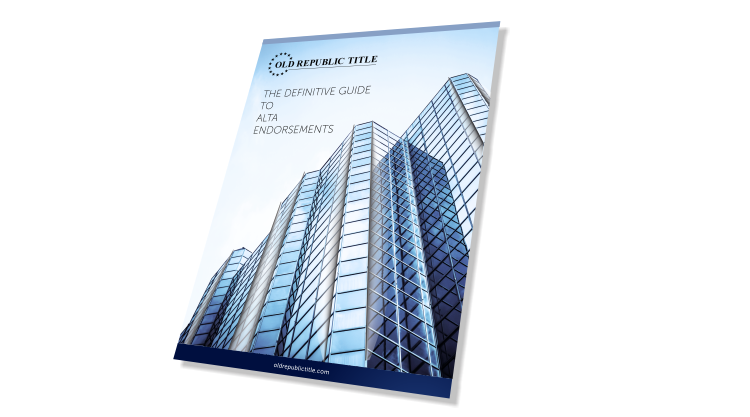 ALTA Endorsement Guide
See our ALTA Endorsement Guide now.
Access Now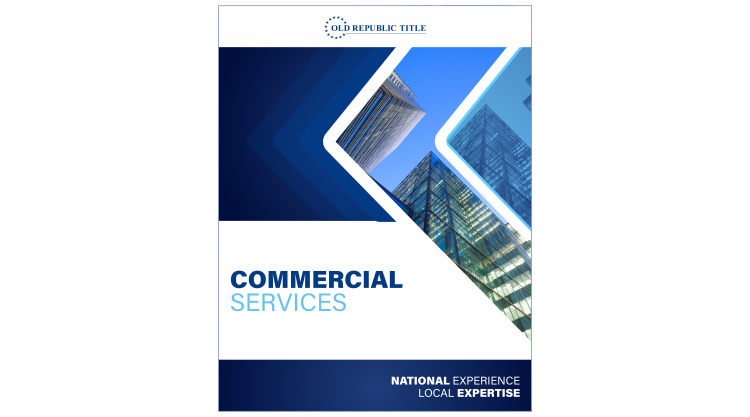 Commercial Services Guide
Learn more about Old Republic Title's services, ratings, notable transactions and more here.
Access Now